Manchester United have agreed a five-year deal, worth £235m, with global technology company TeamViewer to become their principal shirt sponsor from next season.
The Germany-based remote software firm will replace American car manufacturers Chevrolet, who have been the main shirt sponsor since 2014.
The deal equates to Barcelona's reported 55 million euros per season deal with Japanese electronic brand Rakuten before the coronavirus pandemic, making the TeamViewer agreement the biggest shirt-only deal in the Premier League.
Manchester United managing director Richard Arnold said: "We are tremendously proud to be establishing this partnership with one of the most exciting and dynamic global software companies.
"The ability to connect and collaborate has never been more important to the world and our community of 1.1 billion fans and followers.
"We are looking forward to working with TeamViewer to bring to life our vision for a partnership built on smarter ways of connecting people and businesses."
TeamViewer becomes the sixth principal shirt sponsor in United's history, following deals with Sharp, Vodafone, AIG, Aon and Chevrolet.
TeamViewer chief executive Oliver Steil said: "We are very excited about this partnership, as it will significantly expand our brand positioning and it will help us to market our comprehensive solutions portfolio to all customer segments globally.
"With Manchester United and TeamViewer, two global winning teams join forces: Together as Team United we can bring the fan experience in the legendary Theatre of Dreams to a new level.
"We are extremely proud Manchester United picked us as partner in their ongoing technology journey."
United are also in the process of agreeing a new sponsorship deal for their training kit, with their eight-year deal with American insurance giant Aon near its end.
Will Solskjaer have more money to spend in the summer?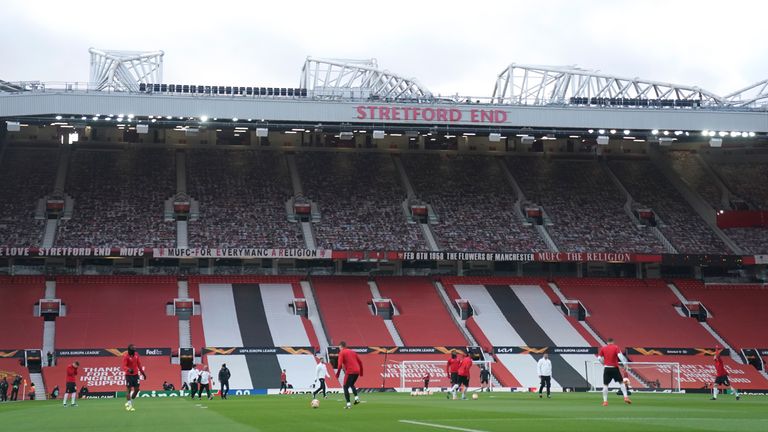 Sky Sports News reporter James Cooper:
"I think it gives them a firmer foundation but that's said with a huge caveat. Last summer, we spoke about the financial implications of Covid being very difficult, and Old Trafford has been empty for a year.
"That's a huge money-spinner for Manchester United when it's full, and a huge loss-maker when it's empty. On top of that, they crashed out of the Champions League. They're into the quarter-finals of the Europa League, but that has lost them money.
"For a lot of United fans who will now expect plenty of wheeling and dealing, and lots of players to arrive, I don't think it'll be that. They have to box pretty clever and know what they want. I think they know which areas they're looking to strengthen, and the list will be drawn up.
"It's good news, but I don't think it's huge news given the environment I've just mentioned."